Church of Three Saints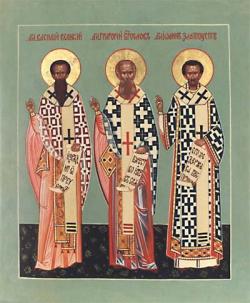 The life of the Classical School is hardly conceivable without the chapel that is situated within its walls. The chapel was consecrated in 2000 in the name of Three Holy Hierarchs: Basil the Great, Gregory the Theologian and John Chrysostom.
From 2000 to 2004 the chapel belonged to one of the oldest Moscow churches - the Temple of the Holy Prophet Elias that is situated in the Obydensky pereulok.
A great support is given to the Classical School by its patron His Grace, Archbishop Evgeniy of Vereya, Rector of the Moscow Theological Academy and Seminary. Professors of the Theological Academy celebrate divine services in the school chapel and give lessons of God's Law to our pupils.
After the Classical School had moved to the Skryabinskiy pereulok, the Chapel resumed operation in a new building with the blessing of His Holiness Patriarch of Moscow and All Russia Alexiy II.
The Lesser Consecration of the Chapel was celebrated on April 9, 2005. At the moment the school Chapel in the name of Three Holy Hierarchs belong to the Dormition Church in Pechatniki.